Brussel Sprouts
Plant 12 inches apart and top them (break off the growing tip) in early September for larger sprouts.
"They are a delicacy not surpassed by the finest cauliflower," asserts the 1915 Salzer catalog. A real key to success is to top the plants around September 1. When I experimented by topping some and leaving others, the difference was dramatic. Within two weeks the topped plants were putting all their energy into making sprouts while the untopped plants continued to shoot up.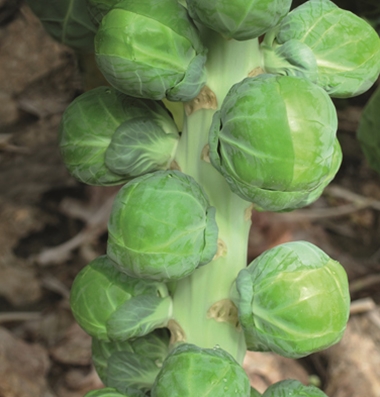 Brussels Sprouts · Dagan
Dependable main-season variety. Tall plants are very attractive for selling "on-the-stalk" sprouts. Dagan's sprouts are medium-large, smooth, and attractive. Holds very well in the field for a mid-season variety.
Qty: 4 pack · Cost: $5.00 ea
Brussels Sprouts · Hestia
Both ripens early and holds its quality on 24–30″ tall plants. It doesn't succumb easily to disease. Develops higher sugars than most sprouts in warmer weather, making for succulent eating.
Note: This item is grown to order only!
Qty: 4 pack · Cost: $5.00 ea
Brussels Sprouts · Falstaff
Falstaff is not only ornamental but also extremely savory. Scout Proft of Someday Farm CSA in E. Dorset, VT, finds them "not as cabbagey" as other brussels sprouts. Her turkey pick-up customers who can see their purple stalks among the baskets of greens and whites really like them. Cooking brings out Falstaff's tender nutty sweetness while allowing it to retain bluish-purple pigments. It cooks quickly, though, so don't overdo it. Good production one year, only fair the next, sprouts with beautiful color, wide size variation, but most quite small compared to the green hybrids, and can be late coming. The color intensifies after a hard frost.
Note: This item is grown to order only!
Qty: 4 pack · Cost: $5.00 ea