Corn
Plant 12 inches apart and arrange in blocks of at least 4 rows for proper pollination which is needed for well filled ears. If you lack sufficient space for enough plants for good pollination, try hand-pollinating by cutting off the tassels and shaking their pollen on the silks.
Sweet corn is ready 18-24 days after the first silks show, the exact time dependent on the weather in the interim. Press ears 2 inches from the tips to assess kernel fullness. Harvest when the kernels are plump, soft, tender, and filled with a milky juice.
Dry/Ornamental Corn · Autumn Explosion
Plant produces high yields of beautiful 9″ long ornamental corn. The corn grows in a rainbow of colors with various combinations of glossy red, white, pink, yellow, cola, purple, and some variegated kernels. There are even some kernels that are striped and spotted. A quarter will produce purple husks. This variety was developed for decorative purposes only.
Note: This item is grown to order only!
Qty: 4 Pack · Cost: $5.00 ea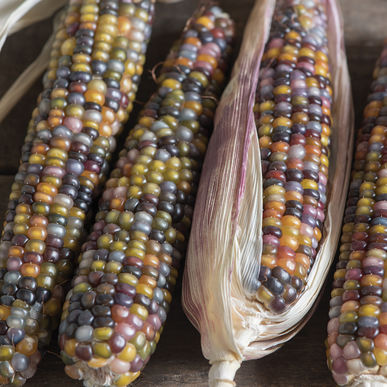 Dry/Ornamental Corn · Glass Gem
An amazingly beautiful, translucent, multicolored corn. The colors displayed are rare in the plant world, let alone all contained within one ear of corn.
Note: This item is grown to order only!
Qty: 4 Pack · Cost: $5.00 ea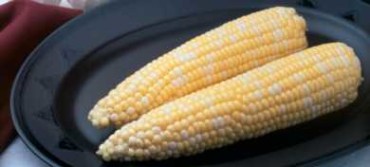 Sweet Corn · Ambrosia
Ah! Those heavenly moments of high summer! Out of the pot come steaming ears of bicolor bliss. Into my mouth where the tender corny kernels mix their sweetness into a total sensation of ambrosial delight. Our corn tasters, for all their enjoyment of the process, are a contrary lot, so when they come to consensus, as they did on Ambrosia, we knew we'd found something good. Ambrosia is perfect for a wide range of markets, from fresh home-garden use to long-distance shipping. The 6½' plants show good early vigor. In stressful conditions the tips don't always fill.
Qty: 4 Pack · Cost: $5.00 ea
Sweet Corn · Double Red
Normal sugary (SU) kernels are sweet and richly flavored, but the real coup of Double Red is the ridiculously dark red color. Plants are 5-7′ tall with 1-2 ears per stalk.
Note: This item is grown to order only!
Qty: 4 Pack · Cost: $5.00 ea
Sweet Corn · Silver Queen
Like Sugar & Gold to the previous generation, Silver Queen has become so classic as to constitute a generic brand. Most farmers claiming to offer it have long since switched to more modern hybrids. Because some still prefer to grow the real Queen, that's what we offer. Silver Queen has long set the standard for late-maturing sweet corn with large handsome ears, replete with glossy white creamy sweet kernels that fill to the very tips. 8–9′ tall plants.
Qty: 4 Pack · Cost: $5.00 ea
Sweet Corn · Sugar Buns
Sugary enhanced homozygous F-1 hybrid from Crookham with sublime tenderness. About as sweet as our palates like, but not cloying like the supersweets. 6–6½'tall, 14 rows, 6–7″ ears.
Qty: 4 Pack · Cost: $5.00 ea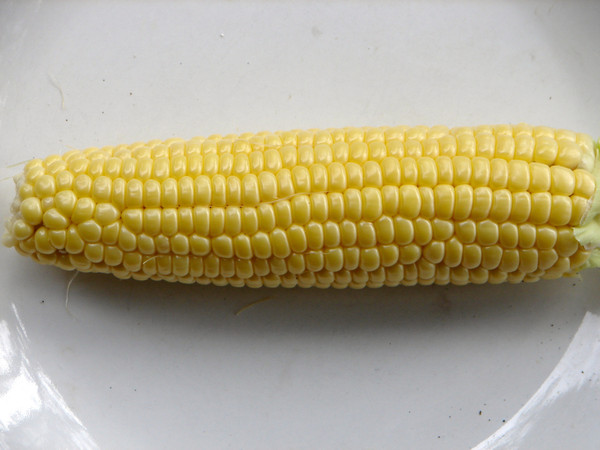 Sweet Corn · Top Hat
Oregon farmer/breeder/seed grower Jonathan Spero of Lupine Knoll Farm has spent six diligent years selecting OP sweet corn lines for depth of flavor, sweetness and tenderness to give the hybrids a run for their money. With perfect kernel depth, delicate texture, and full corny flavor balanced by just enough sweetness. Its slender delicate handles make it easy to pick and husk, and it is so tender that it allows for good raw eating as well as enhancing salsas, chowders etc.
Qty: 4 Pack · Cost: $5.00 ea