Fennel
Plant between 6 (for smaller bulbs) and 12 (for larger bulbs) inches apart. Harvest whenever the bulbs look right to you.
Perennial grown as an annual with a licorice-y taste. Tender stalks and leaves are good for relishes, salads and garden munches; leaves and seeds excellent with fish. May also be grilled, sautéed or steamed. Seeds used in sweets, baked goods & beverages. Fennel prefers rich well-drained slightly limey soil. Do not allow to dry out (courtesy of Fedco Seed Catalog).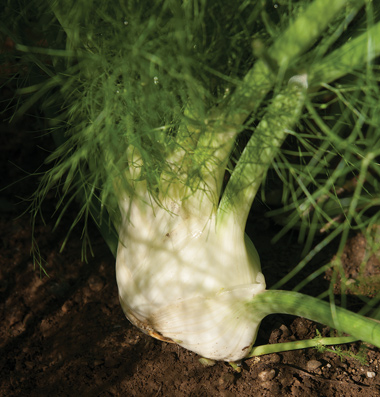 Fennel · Orazio
Crisp and flavorful with a nice anise flavor. Due to its heavier bulbs, Orazio has a higher yield potential than flatter, open-pollinated fennels.
Qty: 4 pack · Cost: $5.00 ea
Fennel · Perfection
The acme of Perfection in bulbing fennel, and a good performer in cool soils. Trialed alongside Orion, Florence and Zefa Fino, it was the best bulber, developing the fewest high narrow stalks even in overcrowded conditions in the very warm spring of 2012. Stood five days longer than Zefa with much thicker bulbs.
Note: This item is grown to order only!
Qty: 4 pack · Cost: $5.00 ea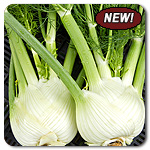 Fennel · Preludio
Very early, heavy bulbs with superb flavor · a major improvement in hybrid fennel. This variety stood out in our trials with its lightly sweet flavor, uniformity and ability to hold in the field without bolting. Upright plants are easy to harvest.
Note: This item is grown to order only!
Qty: 4 pack · Cost: $5.00 ea