Peas
Young plants are very hardy but frost stops production at the blossom or pod stage. Likes cool moist weather; dislikes heat, so not well adapted to southern climates where the spring heats up too quickly. Sow as early as ground can be worked for best yields. All peas produce more when staked; varieties over 2 ½' must be supported. Plant 8–10 seeds/ft in rows 3′ apart (5′ if very tall varieties). Early morning picking retards spread of powdery mildew disease and ensures best flavor (courtesy of Fedco Seed Catalog).
The last date to order items online is Sunday, March 15, 2020. Transplants will then be available for sale at the farm at a later date.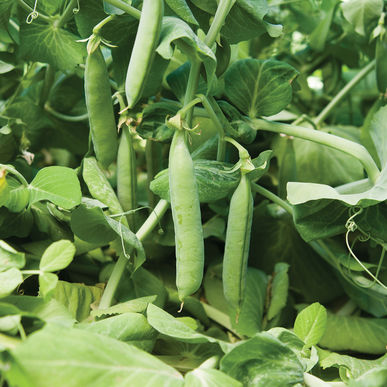 Shelling Peas · Maxigolt
Maxigolt has exceptionally large pods and exceptionally huge peas with exceptional sweetness. Their huge 5+ foot vines yield massive abundance.
NOTE: This variety is grown to order only!
Qty: 4 pack · Cost: $5.00
Snap Peas · Cascadia
A super 'snack' pea. These crisp, sweet, sugary pods are so delicious for fresh eating they may never make it out of the garden. A must-have main season variety with heavy yields of juicy, thick-walled pods. Bucketloads of plump pods with tiny, distinctively delicious peas on 3′ tall vines. Multiple disease resistances allow for spring and late season plantings.
Qty: 4 pack · Cost: $5.00
Snap Peas · Super Sugar Snap
An earlier, somewhat shorter-vined version of Sugar Snap with the important addition of resistance to powdery mildew. The vines avg. 5′ or more and need trellising. Early yields are heavier than Sugar Snap but the harvest period is shorter. The pods avg. 3″ and the flavor is good but not quite as sweet as Sugar Snap.
NOTE: This variety is grown to order only!
Qty: 4 pack · Cost: $5.00
Snap Peas · Opal Creek
From a cross between the Golden Sweet snow pea and the tall Sugarsnap comes a new color for sugarsnaps! 5–6′ vines require staking. Mild and not as sweet as most sugarsnap varieties, with a silky smooth texture and a pleasantly crunchy flavor. The pods are great in salads and out of hand, best enjoyed when partially filled out rather than fully fat and tougher-textured.
NOTE: This variety is grown to order only!
Qty: 4 pack · Cost: $5.00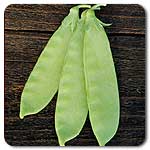 Snow Peas · Mammoth Melting
Open-pollinated. The standard climbing snow pea. Vines grow 5–7′. Very heavy yields of 4–5″ pods. Continues to produce if kept picked provided powdery mildew does not strike. Very sweet eaten raw as well as sautéed.
Qty: 4 pack · Cost: $5.00