Radicchio
Radicchio resembles a petite head of red cabbage producing variegated dark, burgundy leaves with contrasting white ribs. Growing from orange to grapefruit size and easy to peel, the smooth, crisp leaves offer a bitter flavor with a hint of spice. When cooked the vibrant burgundy color of the leaves fades to a deep brown hue, its bitter flavor is mellowed and rather takes on a subtle sweetness.
The last date to order items online is Sunday, March 22, 2020. Transplants will then be available for sale at the farm at a later date.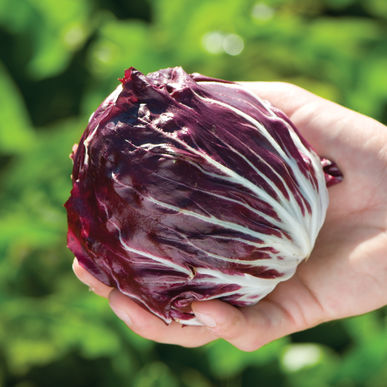 Radicchio · Perseo
Red with white veins, round Chioggia type, extra early, small sized heads.
Qty: 6 pack · Cost: $5.00 ea