Scallions
You may plant in clumps if you want more produce per square foot even though they will be a little smaller. Harvest scallions whenever you are ready to eat them. You can try just cutting the greens and see if they will grow back or you can pull them out. Harvest sweet onions when the bulb reaches a decent size and storage onions when the leaves are 2/3rds brown. Leeks will stay in the ground through October into November.
Set plants 6–12″ apart, onions 4–6″ in trenches in well-dug beds with generous quantities of organic matter. Avoid transplanting next to grass strips; slugs love to dine on tiny allium seedlings. Irrigate seedlings whenever the topsoil dries out (courtesy of Fedco Seed Catalog).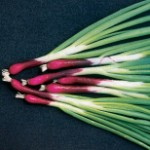 Scallions · Deep Purple
The first red buncher that is highly colored at any temperature or age. For spring or summer sowing.
Qty: 4 pack · Cost: $5.00 ea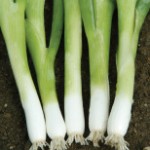 Scallions · Nabechan
Sweeter, more complex flavor. Upright plants with uniform, thick shafts and no bulbing. Nabechan is a traditional Japanese variety grown for its high quality.
Qty: 4 pack · Cost: $5.00 ea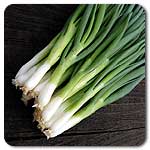 Scallions · Parade
We've never seen such a uniform, upright bunching onion, not a single leaf leaning over. The rows are simply gorgeous! Dark green and vigorous with no bulbing at all, making cleaning stalks easy and quick. Parade has a nice, mild onion flavor.
Qty: 4 pack · Cost: $5.00 ea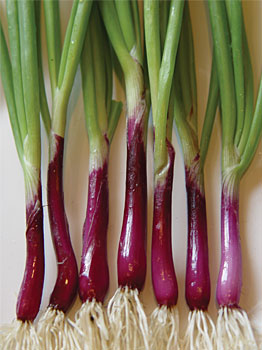 Scallions · Red Baron
An extremely versatile red onion that maintains its vibrant burgundy color at all stages of growth. When planted in the summer, Red Baron can be harvested in the early fall as a scallion. When plants reach 12-14 inches tall, they will start forming small bulbs, which are mild flavored and wonderful in salads or pickled.
NOTE: This item is grown to order only!
Qty: 4 pack · Cost: $5.00 ea